Course Layout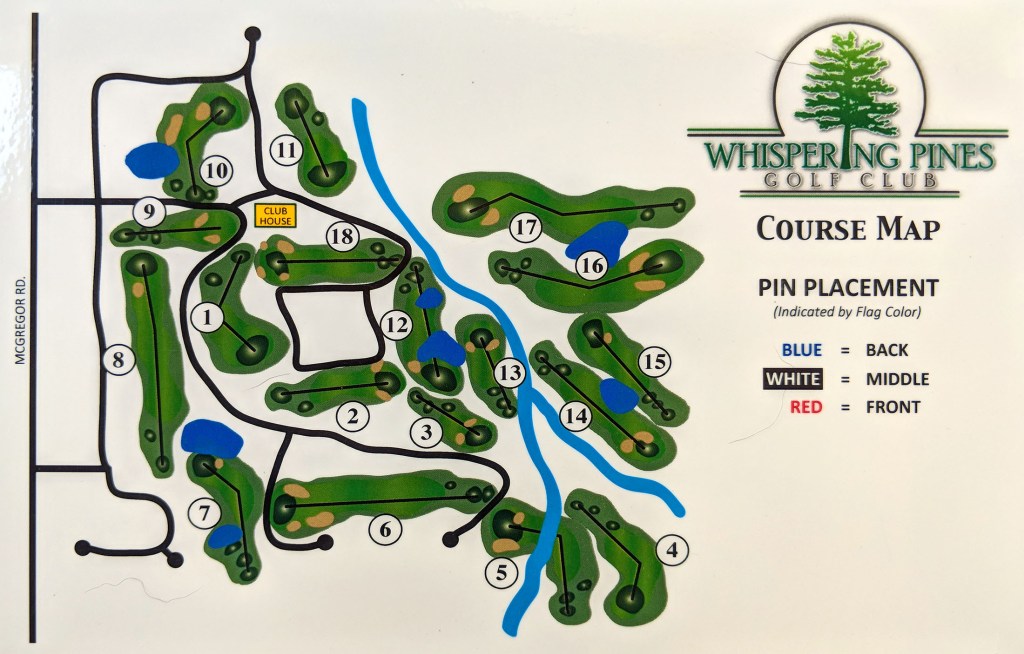 Front Nine
Tee
1
2
3
4
5
6
7
8
9
Out
Blue
425
415
150
315
330
470
392
538
191
3226
White
405
405
131
300
321
452
382
519
172
3087
Gold
392
375
121
205
224
376
308
474
118
2593
Red
262
323
93
216
217
365
295
415
117
2303
Men's
Handicap
4
6
18
14
16
12
8
10
2
Par
4
4
3
4
4
5
4
5
3
36
Ladies'
Handicap
8
4
18
12
14
6
10
2
16
Back Nine
Tee
10
11
12
13
14
15
16
17
18
In
Tot
Blue
277
196
425
156
380
398
425
531
358
3146
6372
White
250
184
401
143
350
375
403
510
348
2964
6051
Gold
235
121
212
135
295
340
378
415
333
2464
5057
Red
228
110
230
132
250
328
322
401
279
2280
4583
Men's Par
4
3
4
3
4
4
4
5
4
35
71
Men's
Handicap
15
7
1
17
13
11
5
3
9
Ladies' Par
4
3
4
3
4
4
5
5
4
36
72
Ladies'
Handicap
15
17
5
13
9
7
3
1
11
Golf Course Local Rules
Please take relief from private property.
Drop area located on the other side of water on 12th hole.
Cart paths and sprinklers are marked to the center of the green.
To place a Grille Order on the Turn Call: (734) 878-0009.
Michigan law prohibits outside alcoholic beverages onto the premises. This is strictly enforced. However you may purchase alcoholic beverages from the 19th hole.
Please keep carts on the path at all times unless the 90 degree rule is in effect. Use cart path around Tees, Greens and Par 3s at all times.
Each player is responsible for Pace of Play. Please use discretion and play ready golf.
Please respect the Golf Course and your fellow players by repairing divots and ball marks.
Proper golf attire must be worn at all times.
Individuals must be 16 years old or over to operate carts.
Any damage to the golf cart or private property is the responsibility of the golfer.
The large white 150 yard markers located just off the fairways are measured to the center of the greens. The red, white or blue 100, 150 and 200 yard blocks are located in the center of the fairways.
Golf Course Amenities
Well manicured golf course with tree lined fairways in northern setting
Bentgrass greens, tees and fairways
Practice putting and chipping greens
Well stocked beverage carts
Pro shop with helpful staff